Introducing the couples' guide to moving in together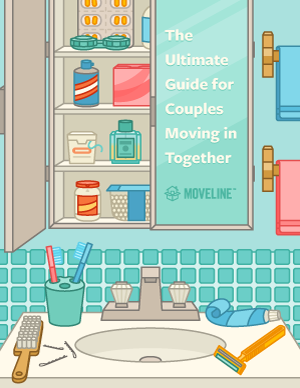 At Moveline, we've seen more than our fair share of moves -- after all, it's what we do. Time and again, we've helped couples move in together under all sorts of circumstances. In one particularly noteworthy instance, a long-distance couple, Tim and Alaina, braved Hurricane Sandy with us on their moving day to start their new life together under the same roof. In another, we moved a couple not once, but twice, in one month after they realized their first place together could never work (it was right above a bar). And the stories go on and on as cupid strikes all sorts of victims, making them go silly enough to overlook each other's weird and wake up together every day.
No matter how diverse people might be, some common themes run strong when two people who love each other decide to make a go of it together. So, we've put together a handy, comprehensive guide for those about to plunge into domestic bliss with one another -- and we've got more than a few tips to share in an effort to keep that bliss from turning blustery.
What we cover in Moveline's Guide for Couples Moving in Together
Here's an overview:
There are plenty of perks to cohabitating with your partner, from the financial to the emotional. While it's important to set parameters and respect each other's space, the benefits to living together (when it's a healthy relationship, anyway) are innumerable.

Looking before you leap is critical: Are you moving to a new place together or simply giving up one of your apartments to move into the other one? What stuff stays and what stuff goes? We've got some great tips for resolving those kinds of questions, and there's even an infographic to help you decide what to keep and what to toss if you reach an impasse.

Like snowflakes and fingerprints, no two couples are exactly alike. As such, "The Money Talk" means something different to everybody. The good news: there are a handful of intelligent guidelines that can make a conversation that's delicate by definition an awful lot more bearable, with the sort of outcomes that even the most hard-headed firecrackers can get on board with.

Depending on where you move together and how, you might need more documentation than you planned for. Never fear; we've got a checklist of things to gather before you start chasing after that lease (or even that rental application).

So many questions: Should you hire movers or do it yourself? What about a storage unit or pod for all that extra stuff? Answers to all that and more are just one click away... and they're free.
Our Ultimate Guide for Couples Moving In Together is available online at no cost. Enjoy, and good luck, lovebirds. May the force be with you.
Moveline simplifies the moving process by demystifying the inventory process, gathering quotes on customers' behalf, and overseeing every aspect of each customer's move. Don't go it alone. Let us make it easier. It's why we're here -- to help you #movebetter.