How to find a sublet or short-term housing in the San Francisco Bay Area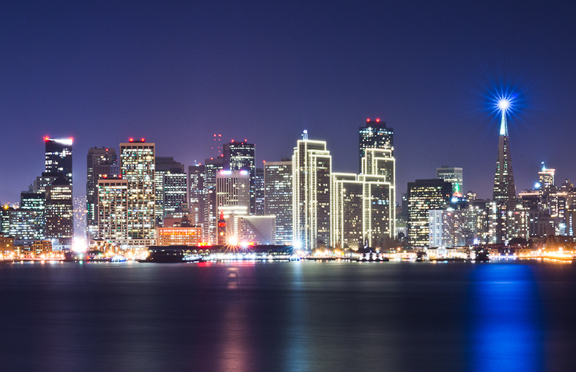 So you're off to San Francisco, but like many who move to the Bay Area from another city, you're stuck trying to find a sublet or temporary housing on short notice and having a tough time. Should you sign a lease from afar, or find a place to stay while you house hunt? Where do you start?
To help you with the search for a short-term–one month to three month–stay, we talked to a few people who have made the long distance move to San Francisco themselves and to a few experts in the short-term rental business.
Here's what the locals had to say:
The state of the sublet market in San Francisco
In the past few years, the short-term rental market in San Francisco has been booming with more and more people arriving to work in Silicon Valley or its urban version, the city's SoMa neighborhood. Malana Moberg, a marketing and management consultant and San Francisco native who we spoke with, sublets her apartment whenever she goes off to travel to Africa, Europe or South America. According to her, "someone is always looking for temporary housing here."
The most popular San Francisco neighborhoods for subletters include: - Nob HIll - Russian Hill - North Beach - Pacific Heights - SoMa - Cow Hollow - Marina
Each of these areas are near the financial district or just a short bus ride away. Anyone moving with a family and on a budget should consider going a bit further west, to Richmond or Sunset. The commute is a little longer but the price tag won't be as steep.
When you're searching for a place while out of town
Start with word-of-mouth and social media, says Moberg. Tell everyone you know what you're looking for and someone may come up with the name of a friend or colleague who has a place available. Especially in Silicon Valley, finding a sublet is easiest if you know people.
But if you don't, she suggests starting your search with the old standbys, Craigslist or Airbnb. A friend of hers reported good luck with Airbnb but cautions that some of the site's listings can be confusing if you're searching for housing vs. a vacation stay. As she cautions, "it's sometimes difficult to sort the shares from the private sublets."
The popularity of Craigslist has spawned a number of agencies that may take listings from the free website and charge for the referral. Watch out for that.
Before the Internet, anyone looking for short-term housing would start with the classifieds in the local newspaper. Thankfully, today we have the San Francisco Chronicle's on-line classifieds, which features a pretty sophisticated search tool.
It's always tricky trying to find a short-term living space if you are hundreds or thousands of miles away from the city you are moving to. Wegolook.com solves that problem. They have 7400 local "lookers" who will check out any listing you find and report back to you for a $59 fee.
Corporate housing and furnished apartments
These apartments are particularly attractive for short-term stays since they are fully furnished and are often set-up specifically for people who are re-locating. Three large corporate rental companies with properties all over the U.S (including San Francisco) are Oakwood.com, Execustay.com and Bridgestreet.com. Bridgestreet's luxury apartments in the city range from $179 to $229 per day; outside the city in San Jose and Sunnyvale, they're $159-$199.
A number of locally-based companies offer fully-furnished apartments as well. Jeanne Zimmerman of McGuire Real Estate, one of these local companies, explains that the demand for short-term rentals in San Francisco soared about 7 years ago. "That's when we built up our own department that specializes in these kinds of rentals." One of the offerings on her website, McGuire.com, is a 1400 square foot two- bedroom in Russian Hill for $3800 per month.
Two other locally-based sources for short-term furnished apartments are rentsfnow.com and amsires.com. Rentsfnow.com lists a one-bedroom apartment on Nob Hill with a wrap around view of the city for $4200 per month; Amsires listings include a "chic and cozy" studio that's just a short walk from the water in the Marina District with a garden in the back for $4375.
Finding a sublet in the San Francisco Bay Area
The most obvious choice would be sublet.com with options all over the U.S. including a one-bedroom in Pacific Heights for $1950.
Two interesting alternatives include Sabbaticalhomes.com and Sabbatix.com, two companies that specialize in helping academics sublet their own homes or find short-term housing near a university.
Of the two, sabbaticalhomes.com has the most options in San Francisco. The company was founded in 2000 by Nadege Conger, the wife of a professor, who is still running the operation with the help of a multi-national team. San Francisco is a popular destination for the website for sublets, house-sitting opportunities and apartment shares. One recent listing is a $3800 per month two-bedroom, 1200 square foot flat on the second floor of a 1910 Edwardian style home located between the Mission and Castro neighborhoods.
Another local source is bayrentals.com, which offers daily updates for anyone looking for a short-term stay. There's a $50 fee for a 30 day service contract; a recent listing --a 1 bedroom in Pacific Heights for just under $3000 per month.
Perhaps you need to find a roommate?
Four nation-wide websites will match you up with a roommate in San Francisco: - Olx.com, - roomster.com, - Roommates.com, - and roomiematch.com ("our actual human Scam Busters use their actual eyeballs and organic brains to review all roommate submissions. Many get tossed in the trash")
...all are ready to help with your search.
…or just a place to stay while you house hunt
Vacation rentals are very much the same as sublets. Most are available by the night, the week, the month or longer. The websites VRBO.com and Cyberrentals.com are all owned by Homeaway.com, the giant in the field. Cyberrentals.com has an aptly named, flowers-everywhere-you-look one bedroom Garden Cottage minutes from downtown San Francisco for $4200 per month. Roomorama.com can help you arrange a stay in a studio on the third floor of a building in Nob Hill where Dashiel Hammett lived ($165 per night) or a one-bedroom loft in SoMa with a fireplace and shared roof deck for $4080 per month; and the San Francisco-based Buenavistarentals.com offers 70 vacation rental properties in the city including a one-bedroom with a wall of windows and a garden view on Ashbury Avenue for $3650 per month.
---
Moving to San Francisco? Let Moveline help. We'll get you guaranteed quotes from the top San Francisco movers, and assign you a Move Captain to manage your move.